Itinerary: Adventure Seeker Getaway in Stellenbosch
Posted on Thu December 3, 2020.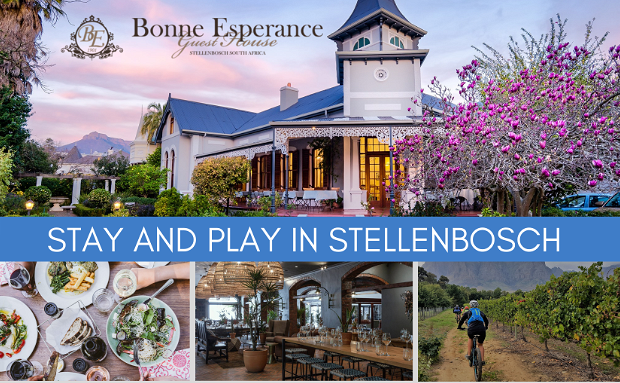 The ultimate adventure seeker's getaway in Stellenbosch
There's no doubt that we head to Stellenbosch for its award-winning wine and breathtaking countryside. But adventure seekers may need a dash of adrenaline or a dose of exercise alongside Stellenbosch's big-hearted welcome and flavourful foodie delights.
Adventure seeker's take note: this might be the ultimate stay and play adventure in Stellenbosch!
Day 1
Saddle up for an e-bike adventure in the Winelands
Join the Adventureshop crew for a half-day, guided e-bike tour from the centre of Stellenbosch to the Boschendal Wine Estate via arguably the most scenic valley in the Cape Winelands.
Riders meet at the Adventureshop offices for a 9am start, before following jeep tracks and mountain bike trails over the Helshoogte Pass, a route used by the first Dutch and French families who settled in the Olifantshoek valley in 1688 – later known as Franschhoek! You'll learn more about the small mission stations scattered across the valley as your knowledgeable guide shares insights and stories from local life in the surrounding communities. Soak up the views, keeping your eyes peeled for Eland and Blue Wildebeest as you cycle along multiple mountain streams in the Banhoek Conservancy.
Once you get to Boschendal you'll have plenty of time to catch your breath and enjoy a coffee or meal at the Boschendal Deli. Even better? The Adventureshop bus will transport you back to Stellenbosch in the early afternoon, which means you can buy a few bottles (or boxes) of wine!
This stay and play adventure in Stellenbosch does require a basic level of fitness, so perfect for those with intermediate mountain biking skills (kids above 140 cm in height included!).
Please click on the link to see a video of the experience.
Contact +27 (21) 882 8112 or [email protected]
Wine tasting at Blaauwklippen wine farm
Of course, no stay and play adventure in Stellenbosch is complete without at least one traditional wine tasting. Founded in 1682, Blaauwklippen is one of the oldest wine farms in Stellenbosch. Its rich history and strong winemaking tradition make it a must-visit destination, and you'll love its historic Cape Dutch architecture and sweeping lawns.
Learn more about the timeless art of winemaking on a fascinating cellar tour, enjoy a classic wine tasting (or a gin tasting if you prefer!) or phone ahead and ask about the estate's rather delightful wine and food pairings – including a very special artisanal chocolate pairing (think chocolate paired with white wine, red wine, an aperitif, noble late harvest and 10-year-old potstilled brandy); a unique macaron and wine pairing; or a red wine and fudge pairing.
Contact +27 (0)21 880 0133
Sundowners, tapas and wine
If you're not rushing back to your self-catering accommodation to fire up the braai, or to your guesthouse for a dip in the pool, consider a few sundowners in town to round off the day! You'll find plenty of platters, tapas and small plates to share at the Brampton Wine Studio, Love Wine or Spek en Bone. And as all are situated in the 'restaurant district' of Stellenbosch you'll get a small taste of the lively and vibrant #warmheart of Stellenbosch.
Day 2
Scootours
If you loved your e-bike tour, it's time to up the fun with a downhill Scootour adventure in the Jonkershoek Reserve.
These eco-friendly, Swiss-designed scooters are actually used in the Alps during the summer season on the ski slopes when the snow is gone. So, they're perfect for zipping through the majestic alpine-like mountains surrounding Stellenbosch.
Experience the reserve on an experience like no other – and in the company of professional qualified guides.
It's also a family-friendly adventure with 4 to 9 year olds doubling up with their parents, while children 10 years and up can ride their own Scootour and fall in love with this incredible part of the world.
Contact +27 (0) 82 776 0557 or [email protected]
Lunch at the Postcard Café
Still in the Jonkershoek Valley, you'll find the Postcard Café at Stark-Condé Wines. An incredible setting with picture postcard views (hence the name), it's the perfect place to end your stay and play adventure in Stellenbosch. Think antipasti plates, fresh salads, free-range chicken, smoked Franschhoek trout and more – all paired beautifully with Stark-Condé estate wine.
Where to stay

Head to Stellenbosch for a luxurious stay at Bonne Esperance Guest House.
You'll love the wrap-around porch with touches of broekielace, the pretty manicured gardens, pool and uber-luxurious rooms. With wide smiles, spectacular service and buckets of local personality, Bonne Esperance is the epitome of the warm heart of Stellenbosch.
And until the end of January 2021, Bonne Esperance has put together the perfect adventure-seeker deal at only R2595 per person sharing. The stay includes two nights in a luxurious deluxe balcony room; an evening sundowner platter with wine; a hearty breakfast daily; an Adventureshop e-bike tour to Boschendal; a free wine tasting at Blaauwklippen wine farm; late check-out (12pm); and a two-course lunch at the Postcard Café!
Contact +27 (0) 21 887 0225 or [email protected]