History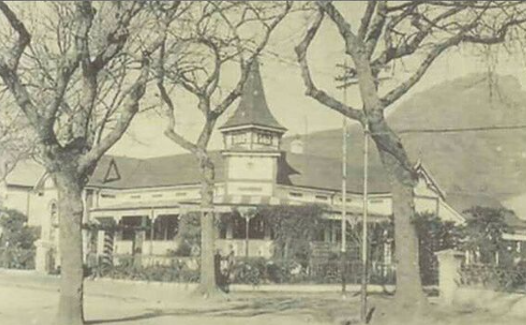 Towards the end of the nineteenth century, a surge of prosperity in the Western Cape led to delightfully opulent details being added to townhouses, like towers, turrets, mouldings and lace-like cast iron decorations (known as "broekie lace"). This appearance of late Victorian features was especially evident in Stellenbosch, and Bonne Esperance is one of the finest examples from this period.
In 1907, Jacobus Johannes Ferdinand Tribelhorn, a self-taught architect-cum-builder from Paarl, built the house for the De Villiers family. The family lived in the house for 39 years until Tribelhorn bought it back for himself and his family.
In 1940, Mr Tribelhorn sold the Lanzerac farmstead due to health reasons and bought Bonne Esperance back from the De Villiers family.
In 1942, Margaret and Ian Simpson (grandchildren of Mr Tribelhorn) recall staying at Bonne Esperance with their mother while their father went off to fight in World War 2.
In 1955, the Slabbert family bought the villa and converted it into a student residence for the University of Stellenbosch. The residence was well-run by the strict Mrs Slabbert who was famous for her home-cooked meals. Generations of Maties look back fondly upon their times spent at what was soon-to-be Bonne Esperance.
In 1969, the powerful Tulbagh earthquake shook, quite literally, the Western Cape Province to its core. One of our guests remembers attending a party at Bonne Esperance on that frightening night. She recalls that the grand dame on the corner of Van Riebeeck and Neethling streets staunchly stood her ground despite the shuddering earth tremors.
In 1990, Sue Coetzee and John Savage bought the villa and transformed it into the first Bonne Esperance Guest House. They extended and improved upon the house's original design and recaptured its original late-Victorian style and elegance. It was Sue and John who were responsible for adding the enclosed courtyard garden and pool.
In 2006, a group of friends who all hold Stellenbosch close to their hearts, bought Bonne Esperance Guest House. The Kruger, Silvis and Vermeulen families lovingly transformed this timeless, beautiful piece of Stellenbosch's history into the luxurious three-star Stellenbosch guest house that it is today. As you make yourself at home in one of our gorgeous rooms, breakfast in the butter-yellow breakfast room, or take a quiet moment on the wrap-around veranda overlooking the immaculate garden, you will without a doubt be able to notice the care, attention, love and pride that has gone into creating the comfort and ambience for which Bonne Esperance Guest House is so well-known.