Staying at Bonne Esperance
Accommodation
Bonne Esperance is a boutique guesthouse nestled in the charming enclave of Stellenbosch –known for its majestic mountains, lush vineyards and plethora of history, arts and culture. The guesthouse is set in a Victorian villa that was built in 1907 and has retained its old-world charm with the welcome addition of modern comforts to ensure our guests revel in a perfect stay. There are 17 individually decorated rooms; each with the inclusion of air-conditioning, Smart-TV, wireless internet, tea and coffee making facilities, mini-bar, hairdryer and laptop safe. The recent addition to the family is our self-catering apartments, 50 m away from the main house yet with all the trappings you would come to expect from staying at Bonne Esperance.
Guests who stay at the main house can enjoy a full breakfast in the breakfast room or out on the sunshine-dappled veranda where a view is added to the delicious food. For any guidance, Annemien, Michelle, Carmen and the Bonne Esperance Team are available. 
Have a look at our Guest house and Studio Apartments below.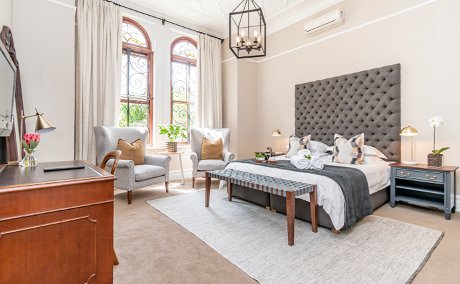 Guest House (B&B)
Bonne Esperance Guest House offers 15 supremely comfortable and stylish guest rooms. The rooms are decorated in keeping with the old world charm of the typical Victorian house but are enhanced with the added luxuries of the modern age.
» More About the Guest House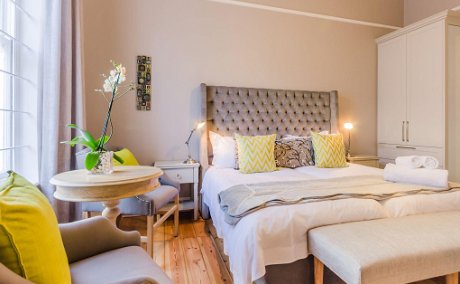 Studio Apartments (Self Catering)
Bonne Esperance's studio apartments provides an alternative form of luxury accommodation that retains all the quaint charm and top-quality hospitality that forms our character.
» More about the apartments