De Oude Bank Bakkerij – A Stunning Stellenbosch Bakery
Posted on Fri June 13, 2014.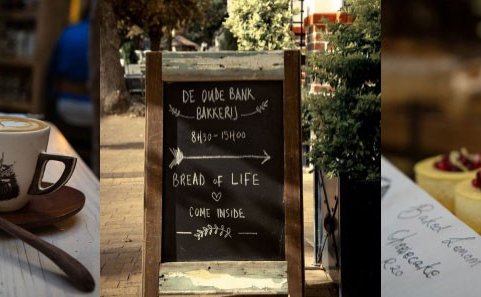 "Life is very simple if you want it to be. Bread should be broken and shared. That's what this bakery is all about."- Frits Schoon the owner's vision for De Oude Bank Bakkerij is simple and true to the experience found at this gem of a restaurant. De Oude Bank Bakery, translating directly to the old bank bakery – is found in the old bank building on Church Street. Owned by Frits Schoon, the Oude Bank Bakkerij has recently come on the radar of many locals and tourists alike. The restaurant is sure to offer you an experience that exceeds the food. The wide variety of fresh, organic homemade bread makes is only half the appeal of this lovely bakery.
Bread, Bread, Bread:
The Bakery specializes is bread and offers each bread freshly made. The bakery produces faultless ciabatta, sourdough, dark rye, baguettes, breadsticks and more. You can buy a loaf and take it home to form a part of your own personal dinner. However, if you are looking for a good breakfast or lunch, the variety of breads are offered on the menu with a selection of preserves and other toppings.
(Source: Jenna McArthur PR – http://www.jennamcarthur.com/pain-de-vie/)
Pastries, wine and everything in-between:
Like most bakeries, Oude Bank Bakkerij has a variety of pasties and baked goods available on sale. As well as some organic homemade ice cream from Fanny Chanel Artisan Ice cream and fresh cuts of meat from Nice to Meet you Boutique butchery. However, as a part of their appeal they have a full on market. Organic vegetables and coffee beans are all available from the restaurant to take home, among other products. The homemade preserves and toppings are also available on sale for one to recreate their amazing food at homes. In addition to these sweet additives, they also stock a variety of local boutique wines and beers.
(Source: Jenna McArthur PR – http://www.jennamcarthur.com/pain-de-vie/)
Die Oude Bank Bakkerij is the perfect get away in Stellenbosch, with its warm rustic chic interior, excellent service and homely feel. Walking distance from Bonne Esperance it is the perfect lunch time destination for some coffee and good conversation. For more information about De Oude Bank Bakkerij visit: http://www.decompanje.co.za/