Expand your artistic experience in Stellenbosch
Posted on Tue October 21, 2014.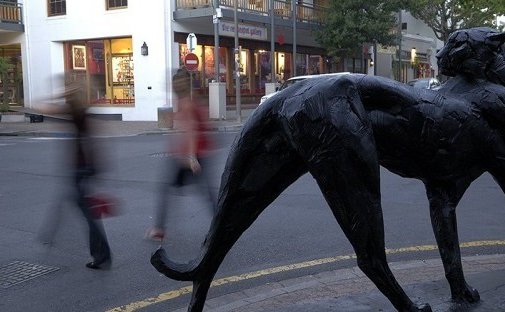 Your stay in Stellenbosch will be peppered with cultural and historical nuggets as you make your way through the antiquated streets -even Bonne Esperance is a long-standing building steeped in Stellenbosch's legacy. Along with wine tasting, fine dining and other activities, the town has world-famous art galleries for you to stimulate your creative brain.
Rupert Museum
The grand dame of art collections, the Rupert Museum, is home to the private art of business magnates, Anton and Huberte Rupert. The sleek Cape Dutch building was opened in 2005 and houses over 350 works, making it the most extensive collection of contemporary South African art from the period 1940-1970. Works by the likes of Maggie Laubser, Irma Stern and Moses Kotler adorn the building, set along the banks of the Eersterivier amid lush vineyards.
Address: Stellentia Avenue off Dorp Street
Contact: +27(0)21 888 3344
Hours:
Monday to Friday: 09h30 – 13h00 and 14h00 – 16h00
Saturday: 10h00 – 13h00
Entrance fee:
Adults: R20.00
Students / Scholars: R10.00
Pensioners: R10.00
Delaire Graff
Laurence Graff is a noted art lover and curator, who delights in discovering new South African artists to showcase in the Delaire Graff Gallery and Estate. The entire estate is one of the most original and aesthetically focussed art walks in the world. The estate has been designed to lead you to the significant works, such as the tangerine leather banquette. The art is found everywhere, from the Tasting Lounge to the gardens –where you will recognise works by Vladimir Tretchikoff, Deborah Bell, Sidney Kumalo and Fred Schimmel.
Address: Helshoogte Pass R310, Banhoek Valley
Tel: 021 885 8160
Smac Art Gallery
For the more cutting edge art lovers, there is the hip SMAC Gallery. One of the leading galleries in modern art, SMAC are constantly showing the up and coming artists making waves in arts and culture.
Address: 1st Floor, De Wet Centre, Church Street,
Contact: +27 (0)21 887 3607
Hours:
Monday to Friday 9:00 – 17:00
Saturday 9:00 – 15:30
The Toy and Miniature Museum
If you have children with you or enjoy being young at heart, make a stop at the adorable Toy and Miniature Museum. Here you will find miniature, handmade replicas of the landmarks of Stellenbosch, including the farm house in Uitkyk Wine Estate (complete with little rooms bedecked in 18th century furnishings), antiques found at the Stellenbosch Village Museum and a fully working Blue Train that travels through mini-Karoo to mini-Matjiesfontein. Other items on show are vintage teddy bears, toys and handmade dolls.
Address: 42 Market Street
Contact: 021-887-9433 or 079-981-7076.
Hours:
Monday to Friday, 09h00 to 17h00
Saturday to Sunday, from 09h00 to 14h00.
From May to August the museum is closed on Sundays.
Entrance fee: R20 for adults and R10 for children
If you want to know more about Stellenbosch, read more at our blog and please have a look at our new self-catering apartments.
Images:
www.roomsforafrica.com
www.smacgallery.com
www.safarinow.com
www.rhinoafrica.com
www.stellenbosch.travel