Festive Season Restaurant List: Town Centre Recommedations
Posted on Sun October 22, 2017.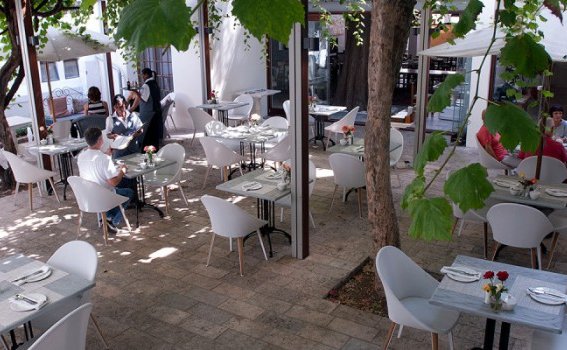 Our central location offers our guests the opportunity to walk to all the incredible restaurants in the city centre. Unfortunately a lot of the restaurants close during the Festive Season, so it's crucial to make a booking.Below you'll find our favourite restaurants in town. They form part of Annemien's Restaurant Recommendation List, which you'll find in each room's information booklet.
Oude Werf is one of Stellenbosch's oldest - and newest - landmarks for food lovers. Our original 1802 Restaurant was an Eikestad favourite. Today, our beautifully redesigned 'modern-meets-vintage' bistro, named "Liefde" ("Love", in Afrikaans) still preserves our essential traditions: homey, Cape classics prepared with love… and a contemporary gourmet twist from chef, Albert van der Loo.
Open on Christmas Eve, Christmas day, New Year's Eve and New Year's Day
30 Church Street - 8 minute walk- 021 887 4608
North-Indian Cuisine at its best. One of the few longstanding restaurants in town.
Open on Christmas Eve, Christmas day, New Year's Eve and New Year's Day
Open daily – Lunch & Dinner 12h00 – 23h00
Corner of Dorp & Mill Street – 10 min walk – tel 021 882 9133
Decameron's philosophy on food is about authentic Italian dishes simply prepared from quality ingredients and fresh produce. Inside, the walls are decked with a massive array of paintings and prints of Italian origin and the Renaissance period.
Open on Christmas Eve, Christmas Day & New Year's  (subject to change)
Mon – Sat, Lunch and Dinner 11h00 till late.
Plein Street – 4 min walk – tel 021 883 3331
This newly opened upmarket Steakhouse is just a 3 minute walk from our doorstep. They offer a variety of dishes like a Porcini Risotto and Limoncello Calamari, even though they are known as a Steakhouse.
Open on the 24th and 31st for lunch
Monday to Sunday 12h00 to 23h00
Van Riebeeck Street tel +27 (0) 21 882 8705
This authentic Japanese Sushi restaurant offers its visitors a delicious slice into typical everyday Japanese cuisine while soaking up the Stellenbosch vibe.
Undecided on their dates
Monday to Saturday 11h00 – 15h00, 17h00 – 22h00
De Wet Center, corner of Bird and Church – 7 min walk – tel 021 887 5699
Rediscover the flavours and textures of good, honest food – which lie in the heart of South African cuisine.
Monday – Sunday 12:30 to 14:30, 19:00 to 21:30
Limited space available on all dates 
On Church Street – 5 min walk - tel 021 883-3132
Restaurant with a smaller menu that changes frequently that features something for everyone. They also have a great wine list with excellent service and a great ambience. Booking is essential.
Closed 24-26 Dec and 1-2 Jan.
On New Year's Eve have a 7 course set menu, with all drinks included, for R1200 per person. Bookings are essential.
Monday to Sunday 12:00–23:15 (closed for lunch on Saturdays)
137 Dorp Street – 10 minute walk – tel 021 883 3889
Stellenbosch Kitchen is situated in the heart of town at The Stellenbosch Hotel. They serve classic dishes from around the globe at very reasonable prices. Terrace seating is also available.
Open on Christmas Eve & Day and New Year's Eve & Day
Monday to Sunday 12:00 to 15:00, 18:00 to 22:30
Corner of Dorp and Andringa, 6 min walk – tel 021 883 2893
Wijnhuis has been serving excellent food and top-class wine since 1997. They mainly serve light Mediterranean dishes as well as daily specials that are made with the freshest and healthiest ingredients. They also sell a small selection of wines in their wine shop.
Closed on Christmas Day
Monday to Sunday 09:00 – 23:00
Corner of Church and Andringa, 6 min walk – tel 021 887 5844
Celebrity chef Bertus Basson opened Spek & Bone with a slightly different concept than you might expect from the chef: it focuses on the sharing of small tapas plates and great wine. The tapas-style restaurant will capture your imagination and tantalise the palate.
Open on Christmas Eve and New Year's Eve lunch
Monday to Saturday 11:30–14:30, 17:30–21:00
84 Dorp Street, 15 min walk - 082 569 8958
Hussar Grill
Closed on Christmas Eve & Day and New Year's Eve & Day
Jardine
Closed on Christmas Eve & Day and New Year's Eve & Day
Basic Bistro
Closed on Christmas Eve & Day and New Year's Eve & Day