Festive Season Restaurant List: Wine farms
Posted on Sat October 21, 2017.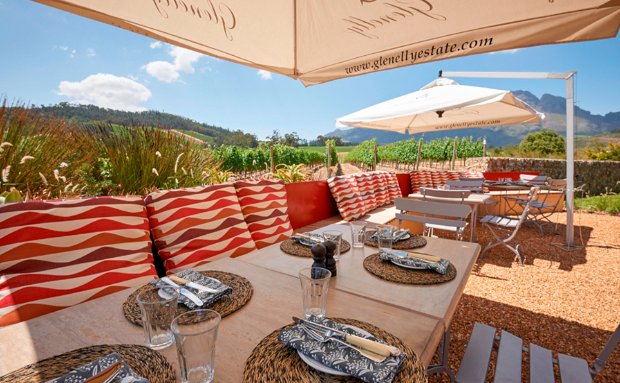 At the foot of the Cape Fold Belt, Stellenbosch's Mediterranean climate means that it's a primary location for viticulture. Conditions are also perfect for growing the kind of produce that attracts world-renowned chefs to restaurants in the region. Paired with tranquil surroundings, a visit to Stellenbosch is one culinary experience you shouldn't miss.

Going since 1692, Spier is one of South Africa's oldest wine farms, with a fascinating history and a legacy that the owners never take for granted. Today the farm has a modern, conscious energy. Focused on art and good farming, Spier is about farm-to-table food and accoladed wines. Its people are committed to living and working in ways that bring positive change to our environment and community.
Christmas Lunch comes to R850 per adult (includes all beverages, excluding spirits) and R250 per child under 12.
New Year's Eve costs R1400 per adult (includes beer, wine, water, soft drinks and a special gift to take home) and R300 per kid (for a special menu as well as water and soft drinks)
Guests are treated to a selection of delectable deli items, where diners can create their own sandwich or platter for lunch from the selection of charcuterie and cheeses on offer. Picnic baskets are also available to be enjoyed in the Deli's garden overlooking the vineyards. Join us for extended hours throughout summer, with the Deli open daily from 08h00 to 19h00.
Deli only, closed on Christmas Day
Stark-Condé Wines is located in the picturesque Jonkershoek Valley in Stellenbosch. It is a dramatic valley with steep changes in vineyard elevation from 150 to 600 metres, making for a range of sites with distinct characteristics. Open from 09:00 – 16:00.
Closed for Christmas, Boxing, New Years and 2nd
One of Stellenbosch's most picturesque wine estates is home to acclaimed chef George Jardine's Jordan Restaurant. Cool and contemporary, the restaurant features a tranquil terrace with stunning views overlooking the vineyards and lake next to the Jordan cellar and tasting room.  He creates mouthwatering dishes using the freshest local ingredients. With impeccable service and well-trained staff, the experience is not to be missed.
Open for lunch 24th, 25th (fully booked for both) and 1st Special Menu (limited space)
Lunch: 12h00 – 14h00 Tues to Sun Dinner: Arrival: 18h30 – 19h30 Thurs & Fri
The focus of the a la carte menu is on serving unpretentious bistro style food with an emphasis on prime-quality steaks. We only serve wines from our greater portfolio, and trust that you find the selection to your satisfaction.
Closed on 24th, 25th and 31st Open on New Year's Day
Lunch: Monday to Sunday & Dinner : Wednesday to Saturday
Situated on the foothills of the Helderberg Mountain, were it found a home at Hidden Valley Wines. From humble beginnings, Overture soon became a destination for great food, service and wines. Bertus Basson and the kitchen team draw inspiration from nostalgic food memories and their mothers' recipes.
Open on Christmas Eve and New Year's Eve lunch
While Terroir's litany of awards, its heavily European-inspired menu and its home on the esteemed Stellenbosch winery's grounds may beg, justify, even demand, a certain degree of pretention. The restaurant's ambience is decidedly informal, and its decor and design simple and without ostentation (unless you count the views of the champion De Zalze Golf Course cascading below as gaudy wall art).
Closed on 25th & 26th December as well as 1st & 2nd January.
Monday to Saturday 12–2:30PM, 6:30–9PM Sunday 12–2:30PM
Cape Country cuisine unashamedly simple yet sizzling with flavour and taste. Our food is rustic and honest with a pinch of nostalgia, the homely atmosphere adds to the restaurant's loyal following. Their menu changes every three months according to the seasons and what is available in the way of fresh produce. The wine list currently showcases more than 350 different wines from across the globe.
24/12: Lunch (a la carte) Dinner (set menu) 25/12:  Lunch(set menu)
31/12:  Lunch (a la carte) Dinner  (New Year's set menu) 01/01/18:  Closed
Cavalli's approach to cuisine can be described as 'modern, nature inspired cuisine', inspired by a focus on our heritage as it draws upon the landscapes, flora and fauna of Southern and Continental Africa.  The menu seeks to take diners on a gastronomic journey, touching on points of nostalgia. Cavalli's team forage daily in their heirloom vegetable garden which they believe translates to superior flavour, higher quality produce and speaks to the estate's belief in sustainability.
Christmas Eve lunch & Christmas lunch (nearly booked up)
The pricing is R 850 per person, which payment is required immediately.
26 December, 1, 2, 3 January Closed, New Year's Eve still (unconfirmed)
Enjoy seasonally inspired dishes at our Bistro while looking at beautiful views of the mountains, vineyard and dam. The Bistro is open daily for lunch between 12:00 and 15:00.
Pick a spot on the pristine garden, overlooking the magnificent dam or in front of the elegant Cape Dutch Manor House, finding shade among the large oak trees and enjoy a delicious picnic for two. Expect a friendly visit from the ducks who waddle and swim around the dam.
Lunch only
Situated on top of the Helshoogte Pass outside Stellenbosch, the restaurant offers its guest's terroir focused contemporary cuisine, award-winning wines and dramatic views over Stellenbosch and False Bay. Multi-awarding winning chef Richard Carstens leads the kitchen team. The à la carte menu changes every season, while daily specials offer something new and exciting to returning guests.
Closed on Christmas & New Year's Eve (24th- open for lunch only), Christmas Day, 1st and 2nd of January.
Located in the heart of the Stellenbosch winelands, Hartenberg Wine Estate serves wholesome, picnic-style meals. Prepared on site, the daily luncheon includes everything from a selection of country cheeses and cold meats to homemade country terrine, roasted vegetables, crudités and country pickles. Guests can also, of course, expect a bottle of Hartenberg wine with each picnic basket
Open for lunch on the 24 & 31of December
Their home cooked styled menu with a decorative twist, the Towerbosch a la carte menu represents delicious home cooked meals complimenting the present with pleasant aromas and exceptional taste, still reminding you of your past. Our a la carte menu changes on a daily/weekly basis, considering the weather and seasonal fresh produce which guarantees the best quality dishes served for lunch.
They will be serving our Christmas lunch menu on the 24th of December 2017 and our New Year's lunch menu on the 31st of December 2017.
Closed for lunch on the 25th and 26th of December, as well as on the 1st and 2nd of January.
Giovanni's Eikendal is set on the picturesque Eiekendal farm in the heart of the Stellenbosch wine region. Come join us for some great food, in a great setting accompanied by excellent wine. We offer outdoor and indoor facilities including a great outdoor play area for the kids to enjoy.
Closed on 25 & 26 December, as well as 01 & 02 January
Giovannis Eikendal will have a special set-menu and DJ.
The interior decor is warm and elegant and includes a harmonious mix of 19th century chairs, classic Parisian tables, a contemporary cellar, a fireplace for the winter, leather banquettes and a traditional bar. Outside on the terrace or under the pergola, long wooden tables, a water feature, plants and a petanque court invite long lazy afternoons enjoying the picturesque views of our estate.
Open for lunch on the 24th. We will be serving a set three course menu at R350 per person
Simonsig
Closed
Joostenburg
Closed
Rust en Vrede
Fully Booked
Clos Malverne
Closed on Christmas Eve and Christmas Day and fully booked for New Year's Eve.
Beyerskloof
Closed for Christmas Eve/Day and New Year's Eve/Day.