Lunch Spots On The Wine Farms
Posted on Sun April 8, 2018.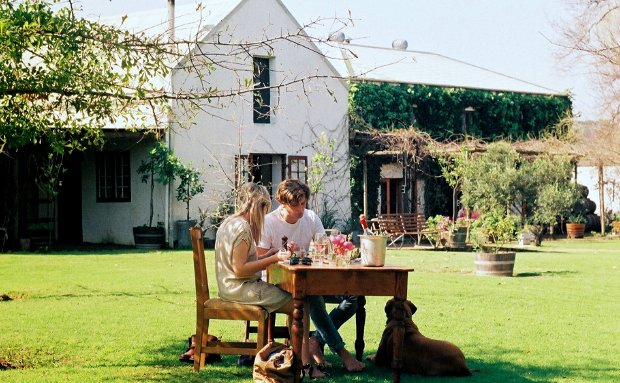 A visit to Stellenbosch is one experience you shouldn't miss. Award-winning wines, delicious food, paired with spectacular surroundings, you are sure to have a fantastic time.
This popular Winelands destination has developed a devoted following since 2009 for its seasonal contemporary cuisine.  With its stunning setting and awe-inspiring views of the picturesque valley and rolling vineyards the restaurant is highly recommend for lunch.
Opening times: Tuesday to Sunday 12:00 – 15:00
Contact: (+27)21- 865 2022, [email protected]
Clos Malverne Estate, Devon Valley Road
This laidback restaurant can be found on Stark-Condé Wine Farm, one of the most naturally beautiful settings in the Jonkershoek Valley. With delicious food and great wines, it's perfect for a relaxed family lunch. We recommend one of the popular favourites: the crispy fried prawn and calamari salad; the teriyaki beef burger with rice; or the spicy lamb curry with rice. Just make sure you save room for dessert, as the baked cheesecake and gluten-free dark chocolate cake are worth the drive alone.
Opening times: Wednesday – Sunday, 09.30 – 16:00
Contact: (+27)21 861 7703, [email protected]
Starke-Conde Estate, Jonkershoek Valley
Like a scene straight out of A Year in Provence, on the beautiful De Meye wine farm in Stellenbosch, epitomises a winelands fantasy come true… long, languid lunches in the country, wonderful company, uplifting conversation, and the joy of delicious home-grown food and good stuff to drink. Hosts Luke and Jessica Grant have created an honest-to-goodness experience that's memorable and uplifting, and has regulars returning time and again. In summer, ask for a private table under the trees; in winter take a seat in the historic white-washed farm building for a cosy meal overlooking the vineyards beyond.
Opening times: Thursdays to Sundays, from 12:30 to 17:00
Contact: 072 696 0530, [email protected]
De Meye Farm, Muldersvlei Road
Sometimes a restaurant doesn't have to be complicated. This latest project from Bertus Basson is incredibly low key and that's what makes it special. Your choice is between two dishes: a Wagyu cheeseburger with perfect chips or succulent fish and chips. (Or have both, we won't judge!) Enjoy an amazing view with options of soft drinks, water, red and white Hidden Valley wines and bubbles.
Opening times: Monday to Sunday 11:00 to 16:00
Contact: 021 880 2721, [email protected]