Restaurants
Posted on Thu April 5, 2018.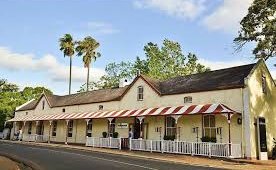 Our central location offers our guests the opportunity to walk to all the incredible restaurants in the city centre. Unfortunately a lot of the restaurants are fully booked a day in advance, so it's crucial to make a booking. Below you'll find our favourite restaurants in town. They form part of Annemien's Restaurant Recommendation List, which you'll find in each room's information booklet.
The dinner theatre is located in Kayamandi (Xhosa for "nice home"), a township in the outskirts of Stellenbosch. The dinner and show is hosted by Amazink Theatre, which gives visitors unique and unforgettable experience. The outdoor arena offers panoramic views of the surrounding mountains of Stellenbosch. The show was lively and they encouraged audience interaction. The 3-course meal was served by the waiters who also form part of the show.
The show starts on Friday night at 19:00
Masitandane Rd, Kayamandi (Shuttles available on request)
Decameron's philosophy on food is about authentic Italian dishes simply prepared from quality ingredients and fresh produce. Inside, the walls are decked with a massive array of paintings and prints of Italian origin and the Renaissance period.
Mon to Sat, Lunch and Dinner 11h00 till late.
Plein Street – 4 min walk – tel 021 883 3331
Fat Butcher is an upmarket steakhouse that's just a 3 minute walk from our doorstep. Choose your own prime cut of meat, which will then be seasoned to perfection, cooked to order and delivered to you. The restaurant is spacious, has a chilled atmosphere and is a great place to bring a date, family or friends. They offer a variety of meat dishes (best steak and ribs in town). They also have incredible options like a Porcini Risotto and Limoncello Calamari. We can't recommend them enough! Please book at least a day in advance.
Monday to Sunday 7h00 to 23h00
Van Riebeeck Street tel – 3 minute walk - +27 (0) 21 882 8705
This authentic Japanese Sushi restaurant offers its visitors a delicious slice into typical everyday Japanese cuisine while soaking up the Stellenbosch vibe.
Monday to Saturday 11h00 – 15h00, 17h00 – 22h00
De Wet Center, corner of Bird and Church – 7 min walk – tel 021 887 5699
Helena's is truly the complete package when it comes to a night out at a top restaurant: every dish a revelation, the service remarkable and the setting idyllic. You will leave Stellenbosch with that uncommon feeling that your money has been well spent on a meal you won't forget anytime soon.
Monday – Sunday 12h30 to 14h30, 19h00 to 21h30
On Church street tel 021 883-3132
The Backyard Braai takes up the back courtyard behind the Hudsons on Dorp Street in Stellenbosch, serving up South African braai classics. Think Springbok potjie, slow-smoked brisket, and locally farmed trout cooked on maple boards. They are also pouring 10 craft gins with a variety of tonic options, and naturally you'll get your favourite craft beers as well.
Tuesday - Friday 17:00 – 22:00, Saturday 12:00 - 22:00 & Sunday 12:00 - 17:00
77 Dorp Street – 14 min walk – tel 021 887 2052
Having garnered a loyal following over the years, they are known for their award-winning speciality steaks and wine selection, superb service and warm ambience. Booking is essential.
Mon to Saturday 11h00-23h00
Plein Street – 7 min walk – tel 021 882 8088
The celebrated chef of Jordan Restaurant, George Jardine, opened his dream restaurant in Stellenbosch. Billed as a fine-dining venue, the only visible fine-dining touches are the white table cloths – and of course the seasonally inspired, assured food with its characteristic George touches. But neither the unbelievably low prices nor the ambience suggest top-end dining.
Wed to Sat from 12h00 till 14h00, 18h30 till 20h00
Andringa Street, Stellenbosch Tel: 021 886 5020
Found in the bustling heart of central Stellenbosch, Oppie Dorp is definitely well-named. The oak-shaded outside area, edged right on the busy Dorp Street with lots of traffic and pedestrians passing-by, is a good choice for balmy summer evenings. Its décor may be relatively simple but the good service and delicious dishes will nevertheless have you charmed and eager for more. The menu is relatively concise but it offers some lovely flavourful dishes all the same. Their lamb and venison dishes are incredible.
Monday to Sunday 12h00 till 22h00.
137 Dorp Street – 10 minute walk – tel 021 883 3889
Celebrity chef Bertus Basson opened Spek & Bone with a slightly different concept than you might expect from the chef: it focuses on the sharing of small tapas plates and great wine. The tapas-style restaurant will capture your imagination and tantalise the palate.
Monday to Saturday 11.30am to 2.30pm, 5.30pm to 9pm
84 Dorp Street – 15 minute walk - 082 569 8958
Stellenbosch Kitchen is situated at The Stellenbosch Hotel. Serving a variety classic dishes from around the globe. Terrace seating is also available. They offer great value for money.
Monday to Sunday 12h00 to 15h00, 18h00 to 22h30
Corner of Dorp and Andringa – 10 minute walk -
Wijnhuis has been serving excellent food and top-class wine since 1997. They mainly serve light Mediterranean dishes as well as daily specials that are made with the freshest and healthiest ingredients. They also sell a small selection of wines in their wine shop.
Monday - Sunday 12h00 – 23h00
Corner of Church and Andringa , 6 min walk – tel 021 887 5844