Rust en Vrede Restaurant In Stellenbosch
Posted on Fri June 13, 2014.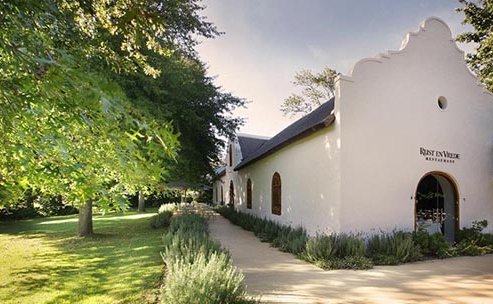 It is not every day that a perfectly balanced restaurant is found on an award winning wine farm. Rust en Vrede Restaurant is listed as the number one restaurant in Stellenbosch on tripadvisor.com. Located in the original wine cellar – a national monument – the restaurant can be found front and centre on the farm. The restaurant is contrasted by an old farm style exterior design with a sophisticated, yet homey interior design. The atmosphere is thus created to be relaxing but always buzzing and vibey. The Restaurant has been on the receiving end of many accolades, especially in the field of excellence, and this shows in the passion and dedication of the staff.
The Estate of things:
The first wine estate to specialize in the production of red wine only, Rust en Vrede wine is of excellent standard. The wine is of export quality seeing 65% of their total wine production being exported. In 2000 Rust and Vrede became the first South African wine to be listed on the top 100 wines of the world by US wine magazine. With these credentials it is easy to see why Rust en Vrede restaurant has succeeded serving the wine produced on the farm.
The Kitchen:
Lead by John Shuttleworth who completed his culinary internship in Manchester- the Rust en Vrede kitchen is a team of accomplished chefs. A four course, six course and estate experience menu is offered by the kitchen. Each menu provides a variety of fine dining cuisine that is well paired with the extensive range of in house wines. The excellence of the restaurant is reflected in the quality of service provided by the staff and kitchen alike.
Rust and Vrede is a popular restaurant destination, and a reservation is recommended to avoid disappointment. Found on the R 44 down Annandale road, Rust and Vrede is the perfect place to round off a day of excitement and new experiences. For more information visit their website at: http://www.rustenvrede.com/