Stellenbosch-inspired cooking with Tokara
Posted on Wed October 15, 2014.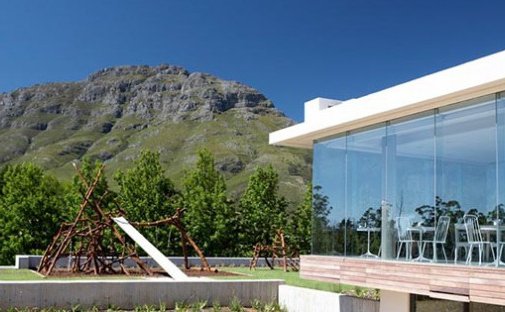 Tokara is one of the most beautifully located wine estates in the Stellenbosch area. Found on the lush foothills of Helshoogte, this estate boasts a delicatessen, restaurant and art gallery. Unbridled creativity in art, food and wine is evident at Tokara, allowing you to enjoy the finest in South African culture and heritage. Former Eat Out SA Chef of the Year, Richard Carstens is at the helm of the Tokara Restaurant, which is famed for delivering dishes that are made from the freshest, seasonal ingredients in the immediate area while still retaining an innovative, modern slant.
The à la carte menu is a delight for those who want to be wowed by interesting flavour and texture combinations. The harissa chicken starter with yoghurt, almonds, carrots and topped with an orange and ginger sauce is one of the highlights of the menu. Here is a revised recipe so that you can recreate this North African-inspired dish.
Harissa paste
Harissa paste is a North African red pepper and chilli paste that makes for a creamy, spicy marinade but is still quite mild. You can buy harissa paste in stores or use this recipe to make your own.
Ingredients:
2 tsp coriander seeds
1 tsp cumin seeds
1 tsp caraway seeds
2 tbsp paprika
1 tsp red chilli flakes
3 cloves garlic, peeled
1 red bell pepper, roasted, peeled and seeded
Sea salt
2 tbsp extra-virgin olive oil and more for coating.
Method:
Preheat the oven to 180 degrees Celsius.
In a bowl, combine the seeds. Add them to a sheet tray and allow to toast in the oven for 1-2 minutes. Remove the tray from the oven and allow to cool down. Once cooled, add the paprika and chilli flakes.
Using a mortar and pestle or food processor, grind the garlic into a paste and add the red pepper. Season with salt, add the spices and the 2 tbsp. of olive oil. Blend well. Once blended, transfer the paste to a container and top with more olive oil. This can keep for 3-6 weeks covered in a fridge.
Harissa and yoghurt marinated chicken
Ingredients:
4 chicken thighs (boneless) or drumsticks
3 tbsp thick Greek yogurt
2 1/2 tsp harissa paste
3 tbsp olive oil
Salt and pepper
1/4 cup mint leaves (shredded)
Method:
Whisk the harissa paste and yoghurt in a mixing bowl. Then whisk in olive oil. The mixture should look slightly curdled. Add salt and pepper for taste and then coat the chicken pieces in the marinade. Allow the pieces to sit for 10-15 minutes.
Heat a grilling pan on high heat then cook the chicken skin side down. The skin should become crispy, then turn the chicken over to complete cooking.
Take the chicken off the grill and immediately scatter mint leaves over the chicken to allow the leaves to wilt. Serve immediately with either salad, starch or vegetables.
Find out more on things to do in Stellenbosch and visit our accommodation page for any bookings.
Recipe credit:
Food Network
Serious Eats
Image credit:
www.halfbakedharvest.com
www.tokara.co.za