Why winter is the perfect time to visit Stellenbosch
Posted on Tue August 7, 2018.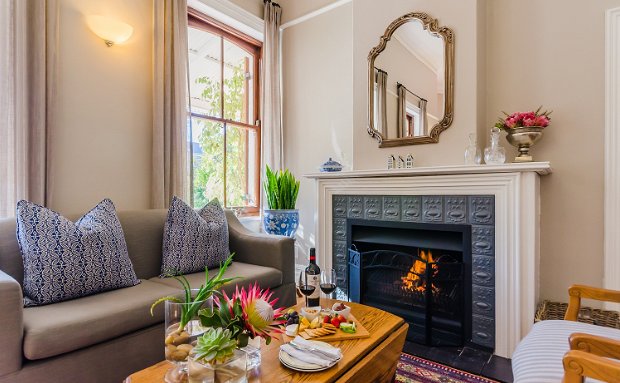 Stellenbosch is known to be a busy little gem during the peak summer months so why not avoid the crowds, wander through town at your own leisure and visit wineries or attend other exciting adventures without the anxiety caused by the usual influx of daily commuters. While you are here, enjoy the best of what the winelands can offer.
Enjoy warm hearty food at one of the following restaurants:
Rediscover the flavours and textures of good, honest food – which lie in the heart of South African cuisine. They have amazing special offers during winter!
Visit the "downstairs" cellar door and the famously quirky cobwebbed window. In winter, you will be greeted with a glass of hot, spicy gluhwein. Delheim also hosts a much-loved Delheim Jazz and Cheese Fondues. Enjoy a Sunday afternoon filled with live music, great wine and a hearty fondue!
The Craven lounge has an extensive selection of the finest local and international spirits, complemented by a roaring fireplace, comfortable seating and walls adorned by interesting memorabilia. Honouring the heritage of the Estate, the Lounge is a salute to Doc Danie Craven and his dog Bliksem, who are fondly remembered for frequenting Lanzerac through the years.
If the food is not reason enough, be sure to check out our favourite wine pairings! Winter is the perfect time for red wine and dark chocolate.
This wine and chocolate tasting is a unique flavor experience. Waterford has created a series of dark and milk chocolate that, when paired with their Shiraz, Cabernet Sauvignon and Natural Sweet wine, result in a flavour sensation, unlike any other. This pairing will cost you around R85.
Kanonkop is an award-winning winery with some of the best wine the Cape can offer. You can taste their Black label Pinotage from R130 per person, no bookings required.
Ice cream in the winter? A strange combination but Clos Malverne is making it work. They were the first wine estate in Stellenbosch offering a unique tasting experience in the form of "Ice cream & Wine Pairing". It has since become one of  their signature pairings with seasonal, hand-made delicacies. Winter Ice Cream Pairing 2018 at R86.00 per person.
Winter is also the time for amazing specials.Here is a few of our favourites:
Terroir is offering a winter special that is valid until 30 September. Enjoy two courses at R395 per person or the chef's choice of four courses at R550 per person. Both dishes includes a glass of Kleine Zalze's award-winning wines.
Info:
Lunch from Tuesdays to Sundays from 12h00 – 14h30.
Dinner from Tuesdays to Saturdays from 18h30 – 21h00.
To book call 0218808167 or email [email protected]. 
The burger menu at Tiger's Milk is impressive. With so many toppings to choose from, you will love these juicy burgers with crunchy chips on the side. They also offer great specials from time to time.
It's burger o'clock every Monday at all Tiger's Milk Restaurants. Receive a cheese burger or mushroom burger on a two-for-one special, all Monday. Beef patties can be swapped for vegetarian or chicken options and the special includes the option of a side serving of chips, salad or onion rings. Price of Burger: R98
Book a minimum 2 night stay and qualify for a 20% discount. This is a perfect excuse to pack up and visit Stellenbosch. Just imagine waking up to our spectacular mountain views having a mouthwatering breakfast and snuggling up at the fireplace with some good company, a glass of wine or a good book.