Flikker & Flash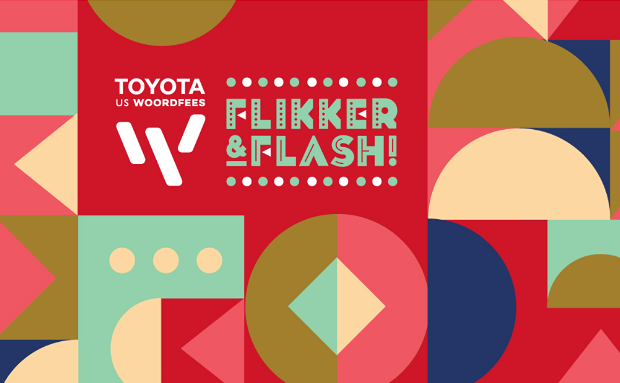 Join us as we Flikker & Flash through the streets of Stellenbosch
At the first Toyota SU Woordfees Artists Week (6-11 April) 70 top artists from across a variety of disciplines will have the opportunity to sharpen their skills, ideas and concepts under the mentorship of eight leading facilitators: theatre makers Andrew Buckland, Gcina Mhlophe, Mmatumisang Motsisi, Sylvaine Strike and Jefferson Tshabalala, dancer-choreographers Gregory Maqoma and Alfred Hinkel and the poet and performance artist Jolyn Phillips.
During the week-long programme, the selected artists will participate in a series of workshops where they will develop their own project concepts in collaboration with other participants and in different disciplines. These new concepts will be presented at the end of Artists' Week as short performances in unconventional spaces in the middle of Stellenbosch.
Through these Flikker & Flash pop-up performances the Woordfees hopes to revitalise some of the empty spaces in the central town with light and art and to bring a breath of celebration to a town that has experienced extreme difficulty during the pandemic.
Where: Stellenbosch town centre
When: Friday and Saturday, 9 and 10 April.

On offer:
Friday, 9 April, 18:30 – 21:30:
A poetry and music evening
Saturday, 10 April, 16:00 – 18:00:
Street Soiree, presented by Stellenbosch Wine Routes
Saturday, 10 April, 18:00 – 22:30:
A wide variety of short performances (5-15 minutes each). The evening will end with a festive organ recital in the Moederkerk.
Entrance:
Performances are free, but audience capacity will be limited. All Covid protocols will be followed strictly. Visitors will be able to donate to the Tribuo Fund via Snapscan. Tribuo provides financial assistance to performing artists who are unable to find, or who have only found limited work, as a result of the pandemic.
Donate to Tribuo with the QR code (below) via SnapScan and help artists in need.
Visit the Woordfees Website for more info