Our Top 5: Gardens in Stellenbosch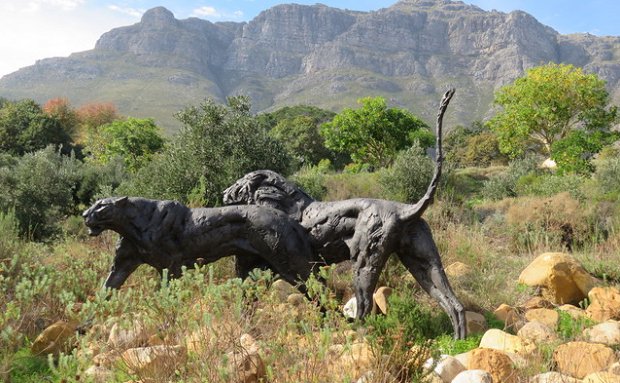 "Fall has always been my favorite season. The time when everything bursts with its last beauty, as if nature had been saving up all year for the grand finale. - Lauren DeStefano"

This secret garden of wonders, filled with 60 beautifully intricate sculptures by artist Dylan Lewis, is as awe-inspiring as it is evocative.
Along four kilometres of paths, one is led on a journey through a landscape which morphs from hills of heather to serene poplar groves.The artist has carefully used the sculptures to explore the notion of the untamed wilderness within the human psyche.
Visits are by appointment only. R100 admission fee for adults.
Situated across the road from Bonne Esperance is the oldest university botanical garden in South Africa.
The garden's main purpose is research and education and it provides a home to various indigenous and some exotic plant species.
After exploring the garden feel free to relax under a red-flowering gum at the Katjiepiering restaurant which is set in the centre of this green oasis.
R10 admission fee.

The Old Nectar garden is the creation of the late Una van der Spuy and boasts national heritage status.
Van der Spuy spent over 70 years creating this labour of love and it is a masterpiece of colour, texture and form. The garden boasts a hillside of oak trees along with Redwood, Elm, Copper Beech, Chorisia, Poplar, Magnolia, Cape chestnut and Maple amongst others. The ornamental dam has unrivalled views of the imposing 1500-metre high Jonkershoek Mountains.
R120 admission fee for adults.
Rustenberg Estate is home to the Cape Dutch homestead of Schoongezicht, which dates back to 1814. The Schoongezicht garden, which is made up of 4 distinct areas accessed by pathways, is a formal English garden. Roses, foxgloves, salvias, agapanthus, sedum, anemones and day lillies add colour and scent.
The majestic Simonsberg mountain backdrop makes this garden a magical place to potter while surrounded by vineyards and green pastures.
Don't forget to stop by the Rustenberg wine tasting room after your walk.

Our meticulously landscaped garden is more than just a picturesque setting; it's a backdrop that captures the essence of cherished moments, even gracing the pages of a local lifestyle magazine.
Delight in the presence of a century-old rose bush that continues to bloom season after season, a testament to the timeless beauty that thrives here. Take a tranquil moment in the early morning, savoring a cup of steaming coffee on the veranda, and indulge in the splendor of our delightful garden.