Picnics in the Winelands
Posted on Sun October 15, 2017.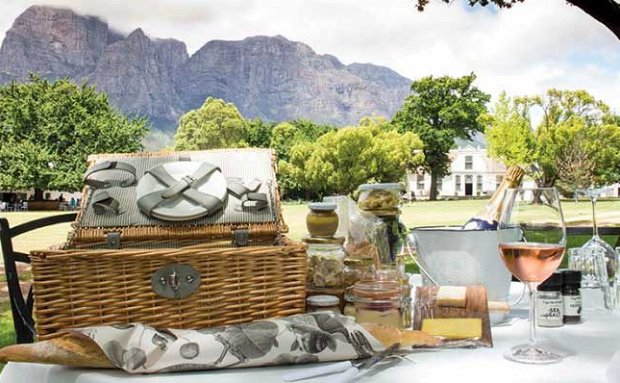 Spring is in full swing and we are really excited about summer being around the corner. In this month's post we feature our favourite picnic spots around Stellenbosch. Perfect for one of those lazy summer days when you just want to relax and soak up the sun. There are so many places to choose from, but these 3 were chosen due to their popularity amongst all of our wonderful guests.
There's no shortage of great places to eat in Stellenbosch, but if you're looking for an outdoor dining experience, this environmentally conscious estate is a spacious and comfortable spot to enjoy a farm-fresh seasonal spread. The beautiful scenery around the Spier dam with views of the Helderberg Mountain provides the perfect setting for a gourmet picnic with plenty of trees for shade and a jungle gym to keep the little ones busy. At Eight to Go Deli you can create your own Gourmet Picnic or you can pre-order a Gourmet Picnic, a day in advance. Spier is one of the stops on the Southern Route with Vine Hopper 
Monday – Sunday, 10am – 4.30pm (pre-packed picnic baskets can be collected 12pm – 4.30pm)
R580 (spring picnic and vegetarian picnic); R140 (children's picnic)
The picturesque winery is renowned for their picnics. The estates lush green lawns are set up with picnic spots besides the dam and a decent distance apart from each other. The spots are set up with an umbrella, blanket, big poofy lounging cushion, and a low wooden table. They also offer 4 other truly unique picnic experiences – the forest courtyard, the pods, the deck and the penthouse. Warwick is also one of the stops on the Northern Route with Vine Hopper. 
Monday – Sunday, 11am – 5pm (picnic baskets are ready from 12.00pm
R500 (basket for two); R300 (basket for one); R80 (children's basket); vegetarian options are available
One of South Africa's oldest wine estates is just a 20 minute drive from our properties. The estate is rich in history and its old world charm is kept intact despite the contemporary tweaks. They have real focus on natural and seasonal products and takes pride in using only naturally grown produce from the estate's gardens or locally sourced artisanal fare to create their delicious and wholesome picnic baskets. Boschendal is also one of the stops on the Eastern Route with Vine Hopper. 
Rose Garden Picnic: Monday – Sunday: 12pm – 5pm
Werf Garden Picnic baskets:  Wednesday – Sunday: 12m – 5pm
R430 – R480 for two people R95 for the kiddie option (Basket collection from 12h00 - 14h00)