Wine is sunlight, held together with water.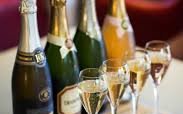 Summer is here! There is no better way to celebrate summer than with a glass of Methode Cap Classique. In this month's newsletter we feature our favourite wine farms for a MCC tasting in Stellenbosch and Franschoek.
Visiting Villieria and Le Lude is perfect for one of those fun filled summer days. With a variety of places to choose from, these two stand out due to their wider selection and quality.
Villiera
Villiera is a family run winery, that specialises in Methop Cap Classique. They also have strong reputation for their Sauvignon Blanc, Chenin Blanc, Merlot and Cabernet Sauvignon. The MCC and nougat pairing is truly special. Their four MCC Sparkling Wines are paired perfectly with nougat from Sally Williams. The presentation is done beautifully, with the host explaining each pairing as they pour the bubbly. Once all the glasses are filled you are left to begin the decadent pairing experience. Slowly enjoying each sip as you pair it with a bite of delicious nougat. This is definitely our kind of tasting!
Villiera is also a member to the Biodiversity of Wine Initiative thanks to their commitment to preserving the environment. In conjunction with the 2 neighbours ( The Cape Garden Centre and Wild Clover Farm) They set aside 220ha of land as a wildlife sanctuary in 2009. A Game drive lasts approximately 2 hours and booking is also essential.
Monday - Friday 09h00 - 17h00 | Saturday 09h00 - 15h00 | Public Holidays: 09h00 - 17h00 
Closed on New Year's Day, Good Friday, Christmas Day and Sundays. 
Le Lude
Le Lude is a beautiful cellar situated on the edge of Franschhoek, specialising in the production of Cap Classique. The family winery and has been creating quite a stir since the release of their maiden vintage October 2015. Sourcing the best Pinot Noir, Chardonnay and Pinot Meunier from around the Western Cape, Le Lude produce a brut and brut rosé made in the Méthod Traditionelle.
What makes them unique is that they are the first cellar to produce Agrafe ( Tirage Liege). Tirage Liege is the method of using a cork to seal the bottle rather than the cap. The cork is held in place by a metal clip called Agrafe. This method was used 100s of years ago in Champagne region of France and is said to impart certain nuances to the wine as it matures.
Monday - Sunday 10h00 - 17h00 | Public Holidays: 10h00 - 17h00 
Closed on New Year's Day, Good Friday, Christmas Day.