The best places for chocoholics to visit in Stellenbosch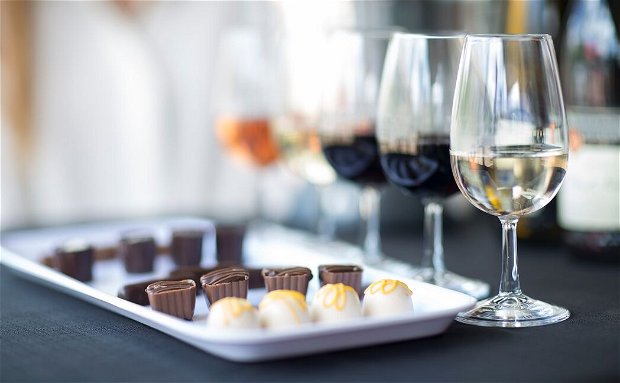 What better treat is there than chocolate? Writer, Dave Barry, spoke for us all when he stated: "Your hand and your mouth agreed many years ago that, as far as chocolate is concerned, there is no need to involve your brain." 
Here are our Top 5 (plus one for good luck) chocolate and wine pairings in Stellenbosch:
Wine & Chocolate Experience – R95 per person. The wine and chocolate tasting at Waterford is a unique flavour experience. Kevin Arnold together with, Chocolatier, Richard von Geusau have created a series of dark and milk chocolates that, when paired with their Shiraz, Cabernet Sauvignon and natural sweet winem results in a flavour sensation, unlike any other. 
Belgian chocolate and Wine Pairing – R110
The Dome Chardonnay with Orange Dark Chocolate, Lourensford Estate Merlot with Dark  Cherry Chocolate, Lourensford Estate Shiraz with Dark Chili Chocolate, and our unique Honey Liqueur with Dark Mint Chocolate.
Photo: Lourensford Facebook Page 
Chocolate and wine tasting (R70): Inspired by their Spier Signature Méthode Cap Classique and their Spier Creative Block blends, the chocolatier has carefully crafted chocolates that complement and unlock nuanced flavours in each of our liquid treasures.
Photo: Spier Facebook Page 
A unique tasting of 5 Premium wines paired perfectly with a selection of artisanal chocolates.
Photo: Lanzerac Facebook Page
Five chocolates have been specifically paired with five of our wines for R135 per person. Hidden Valley Wines chocolate pairing was specially designed to enhance the flavours in our wines. Their aim is to educate your taste buds with these different textures and unusual taste profiles. Enjoy their breath taking views as you relax and listen to the tranquillity of nature while the sounds, sights and smells all blend into our wines. We know that this experience will ensure an unforgettable visit to Hidden Valley Wines. 
Photo: Hidden Valley Wines Facebook Page
Taste 5 Wines for R150 per person. Enjoy a range of artisanal chocolates paired with our wines and specialities.
Photo: Blaauwklippen Facebook Page
Can you imagine a better way to treat your friends or colleagues than an alcohol infused chocolate truffle workshop. Add your favourite alcoholic beverage to a chocolate truffle (sometimes). Give them a call to discuss which one of their wonderful Western Cape bounty you would like to include in your chocolate Truffle workshop - red wine, brandy, botanical gin or craft beer. +27 (0)82 871 0179 
Sessions lasts approximately 2 hours.
Must be older than 18 years old. Booking Essential!
From R210 per person. 
Photo: Winston and Julia Facebook Page.