A Mountain Biker's Feast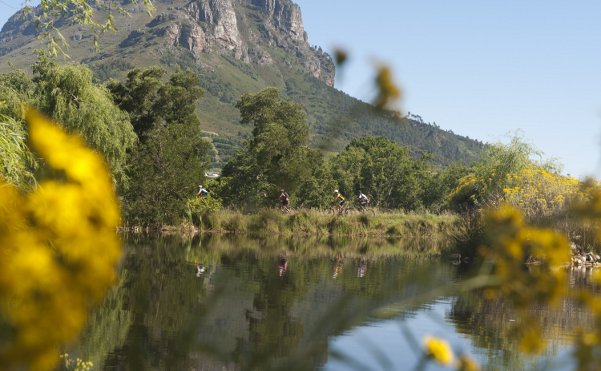 Stellenbosch is a mountain biker's paradise with a network of trails that can keep riders entertained for days. The Pennypinchers Origin of Trails is a 2-Day MTB Stage Race aimed at taking in the very best of the trails. This stage race makes use of the existing network, while adding specially built and exclusive trails. A mountain biker's dream!
Riders can expect a truly unique and special experience as the town of Stellenbosch comes alive with Mountain Bikers!
The Stellenbosch Origin of Trails will not see the traditional race village setup that stage races are used to. Instead, the town of Stellenbosch offers riders great offers of hospitality as the town comes abuzz.
Mountain bikers are encouraged to spend the weekend , enjoying the pleasures of the town. With world class restaurants, quaint coffee shops, wine bars etc, it's an ideal place to unwind after a morning on the bike.
Starting in Church Street, in the heart of Stellenbosch, (a stone through away from Bonne Esperance Guest House) riders make their way to the surrounding mountains to tackle jeeptrack, singletrack, steep climbs and exhilarating descents.
Legendary mountain bike spots such as Jonkershoek and Botmaskop, form part of the route. Access is also granted to the nearby wine farms that are usually off-limits for mountain bikers. Here you will find breathtaking views such as at Bartinney Wine Estate.
Cyclists can choose between three race options depending on their level of fitness. The 65km Long Course Route which spans over the two days is ideal for the trail rider who enjoys a mix of virgin single track and bearable climbs. The 40 km Short Course Route also spanning over the two days has a generous mix of single track and jeep track. The 65km and 40km Medium Course allows you to experience the best of both worlds.
The date for the next Pennypinchers of Origin Trails are 27 to 28 November 2015
Photo Credit: Stillwater Sports
www.stillwatersports.co.za