Award-Winning Restaurant
Posted on Wed April 18, 2018 in
Foodie
.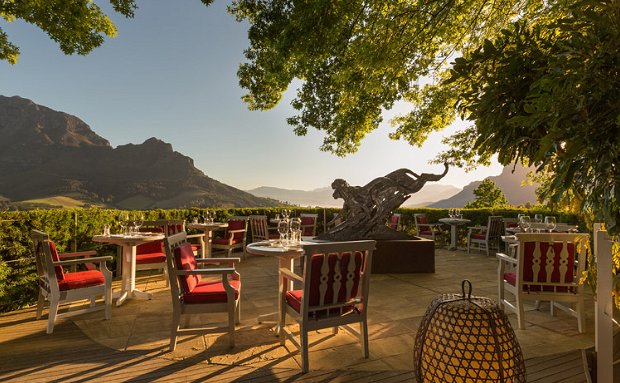 A visit to Stellenbosch is one experience you shouldn't miss. Award-winning wines, delicious food, paired with spectacular surroundings, you are sure to have a fantastic time.
Offering lovely bistro-chic cuisine in a fabulous setting, the Delaire Graff Estate Restaurant changes its menu according to the seasons. The à la carte menu for lunch and dinner is a relaxed but delicious affair.  This restaurant boasts fantastic views over Helshoogte. The interior is very smart, with flamboyant flower displays, while the outside terrace charms with fairy lights and a relaxed vibe.
Lunch: Monday to Sunday 12 noon - 14.15, Dinner: Wednesday to Saturday 6.30pm - 21.15pm
Delaire Estate, Helshoogte Pass
Located in the original wine cellar – a national monument – the restaurant can be found front and centre on the farm.  The restaurant is contrasted by an old farm style exterior design with a sophisticated, yet homey interior design. The atmosphere is thus created to be relaxing but always buzzing and vibey. The Restaurant has been on the receiving end of many accolades, especially in the field of excellence, and this shows in the passion and dedication of the staff.
Every day we offer a two-option menu for lunch to accompany our wines. in the tasting room. They don't take any reservations for lunch, first-come basis.
Opening times: Lunch: 12:00 -15:00, Dinner: Tuesday to Saturday 6.30pm –close
Contact: +27 21 881 3757, [email protected]
Rust en Vrede Estate, Annandale Road
Situated on the foothills of the imposing Helderberg Mountain on Hidden Valley Wine Farm, Overture is yet another fine feather in the hat of top chef Bertus Basson. From humble beginnings, Overture has grown into a foodie destination of note, well-loved for its modern South African cuisine, beautiful views and impressive setting. The well-balanced three-course à la carte menu, if you're there for lunch. This allows you to sample a starter, main and dessert from the small, seasonal menu.
Opening times: Monday – Sunday, 12 – 17:00, Thursday – Saturday, 19:00 – 00:00
Contact 021 880 2721, [email protected]
Hidden Valley Wines, T4 Route, off Annandale Road
As you'd expect from one of the most historic properties in the area, local farm produce is used in their restaurant. This brings a special kind of freshness to all the food that is served here; food that is interesting, always satisfying, and great to eat. The room, designed by famed decorator Neil Stemmet, has a delightfully quirky edge with plenty of dark wood, plush carpets, an antique or two, and a couple of fabulous crystal chandeliers to add glitz to any evening.
Opening times: Lunch: Tuesday - Sunday 12:00 – 14:00 Dinner: Wednesday, Friday and Saturday. 19:00-22:00
Contact:  076 207 8930, [email protected]
Simonsig Estate, Kromme Rhee Road, off R44
Chef George Jardine's seasonal menu captivates with outstanding flavours, textures and techniques. Sensitively sourced ingredients are prepared with complete confidence, and the end result is food that is unpretentious but delicious and beautiful to behold. You can't help but feel immediately at ease, stepping into the restaurant with its spectacular views over the dam and vineyards. It's a simple, welcoming space with a sunny patio that's ideal for summer and a bright, cosy interior perfect for winter lunches.
Lunch Monday to Sunday 12h00 till 14:00 Dinner Thursday to Saturday from 18:30
Contact: [email protected], +27 (0)21 881 3612
Jordan Wine Estate, Stellenbosch Kloof Road
A glorious setting, fabulous food, good service and value for money put Tokara on the must-go-again list. Chef Richard Carstens's love of combining French and Asian flavour and experimenting with new techniques and ideas is evident in all his dishes. Innovative his food may be, but overcomplicated it never is – this is modern cuisine with clean flavours. Perched on a hillside overlooking the vineyards, the restaurant shares the building of glass, brick and steel with the Tokara wine tasting rooms. With an industrial chic feel and a heavy emphasis on art, the venue is as polished as ever, yet remains unpretentious and intimate.
Winter: Tuesday to Saturday 12 noon - 3pm, and 7pm - 10pm. Sunday 12 noon - 3pm. Summer: Tuesday - Saturday: 12 noon - 3pm & 6:30pm - 10pm (drinks and snacks from 3pm - 6pm). Sunday and Monday 12 noon - 3pm.