Stellenbosch Festive Season 2021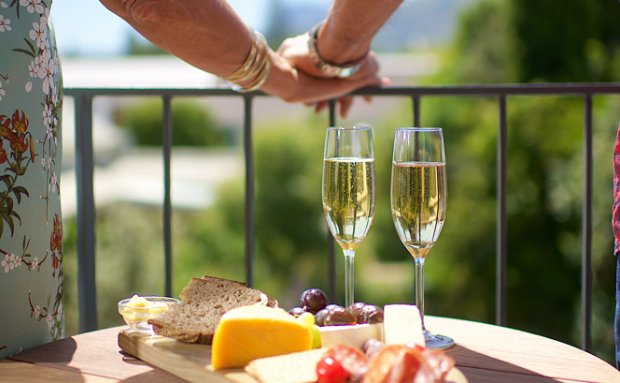 The Festive Season is around the corner and it's almost time to sit back and wine down in the winelands.
A few of our restaurants and wineries will be pulling out all the stops to make this time of year as memorable as possible. Below are a few suggestions of what to do this Festive Season in Stellenbosch.
Jordan's Bakery has been transformed into The Cellar Door. Combining Jordan's award-winning wines with fresh, seasonal food selected by chef Thys Esterhuysen at cellar door rates. The informal all-day cuisine offers exciting wine tasting experiences seven days a week.
Enjoy a picnic with loved ones overlooking the beautiful vineyards of Jordan paired with Jordan mocktails and wines.
Spaces are limited, so make your reservation at [email protected] or +27.218813004.
The Le Pommier Restaurant, a cosy dining place offering the best in country cuisine, also has spectacular mountain views. The a la carte menu provides something for everyone, including delectable meals like bobotie, chicken pie, and Le Pommier's own Golden Delicious Gourmet Burger.
The restaurant is ideal for leisurely family lunches because it is completely child-friendly. It's also perfect for intimate gatherings because of the new table settings.
50% Deposit is required for bookings. 
Email: [email protected] or Call: +27 (0)21 885 1269
Vadas believes in supporting local, high-quality businesses (Spier's Farmer Angus provides chicken, eggs, and meats). Simple recipes are embraced in farm-to-plate dining, which emphasizes the quality of the ingredients. Although you'd anticipate smoked beef brisket, juicy smoked pork with a bourbon BBQ sauce, or smoked pork belly with apple ketchup from a smokehouse, there's a thoughtful focus on abundant, excellent vegetarian options.
The café looks out over Spier's immaculately restored Werf, which has rolling lawns and ancient oaks great for the youngsters to run around in. Celebrate Christmas by enjoying different flavours of food paired with one of Spier's bottles of wine, while spending quality with friends and family.
Email: [email protected] or Call: +27 21 809 1159
A carefree mood living in the now is at the heart of every wonderful picnic. It destroys the vibe to have to prepare, shop, pack, and clean up afterward! To complement your mood, the Warwick team has put together some wonderful locally sourced farm produce picnics. To celebrate this Christmas day with a picnic specially made for you to enjoy with all of your loved ones.
Email: [email protected]  Call: +27 (0)21 884 4410
Kunjani's exceptional gourmet cuisine offers the very best of local and seasonal ingredients, taking customers on a gastronomic journey that incorporates both European and African influences, from calm dining within our contemporary built restaurant to alfresco dinners on the deck.
Email: [email protected] or Call: +27 87 630 0409

Summer Christmases in Stellenbosch are particularly memorable. Dinner on Christmas Eve (R525 per person).
The menu begins with the most delectable first course: smoked salmon trout soufflé baked twice. Corned beef and BBQ roast with baby beets and a sweet potato mousseline are the main courses. Greens, gravy, and a traditional yet delicious Christmas trifle for dessert.

Lunch on Christmas Day (R585 per person) To begin, there's a duck, chicken, and sour cherry terrine, followed by turkey rill with shiitake ragu, glazed gammon with roasted pear, or roasted lamb with sweet potato chips, mint jus, beetroot hummus, and pickled cauliflower.
Christmas is the most delightful time of the year... so why don't we make it the most decadent as well?
For you, our talented chefs have created four spectacular holiday dinners. A spectacular Christmas Eve Dinner, a memorable Christmas Lunch, a sumptuous Picnic Feast, and a sparkling New Year's Eve Dinner are all on the menu.
Prepare to be wowed with delectable appetizers, sumptuous main courses, and delectable desserts. Add a dash of Alluvia magic and all of your loved ones, and you've got yourself a festive season to remember in the magical Cape Winelands
Bookings essential! Call 021 885 1661 or email [email protected]

Our primary focus is on producing flavourful and healthful food, from soil to fork, and we provide a variety of unique culinary experiences. Our menus change with the seasons, highlighting the abundant food of Boschendal and the Franschhoek Wine Valley. Much of the fresh food on your dish is grown responsibly on Boschendal Wine Farm, and we source other ingredients from local farms and small producers in the neighboring Winelands, Stellenbosch, and Cape Town as needed.
With such a diverse range of local produce available, it's no surprise that our talented chefs, led by Executive Chef Allistaire Lawrence, can whip up a delectable meal in any of the estate's restaurants. There's no better place to be if you're searching for a restaurant with a view or a quiet wine tasting under the oak trees.
BOSCHENDAL CHRISTMAS LUNCH EN PICNIC MENU