No wine, no problem!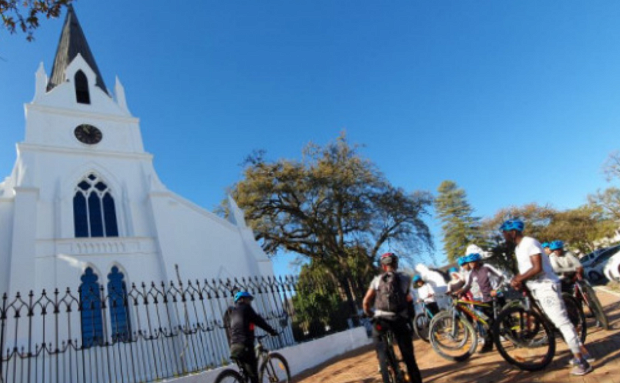 When we think of Stellenbosch, we think of wine, but this town has so much more to offer.
Here are a few of our favourite things to do in and around Stellenbosch.
Enjoy up-close-and-personal interactions with eagles, hawks, falcons, owls, kites, buzzards and even a few reptiles. Take part in heart-stopping falconry displays or snuggle up to a snake.
Open Tuesday to Sunday, 9:30 - 17:00
Adults R85, Children R65
Spier Segway Tour:
This one hour whistle stop tour combines a beautiful glide through Spier's farm to the first block of vineyards. Learn some interesting facts about Spier's unique Biodynamic farming techniques and enjoy the magnificent views of the Stellenbosch Mountain Range.
±1 hour, R375pp
Spier Sunset Tour:
Make the most of Cape Town's warm summer nights & enjoy a beautiful sunset cruise through Spier's vineyards. There is no better way to end off the day than taking in the splendour of this tranquil setting as we glide through the vineyards & watch the sunset on another perfect day in Africa. This unique one-of-a-kind experience offers a fun, romantic and memorable way to finish off your days adventures.
±2 hours, R700pp or 1 hour, R450pp
In conjunction with two neighbours (The Cape Garden Centre and Wild Clover Farm) Villiera set aside 220ha of land as a wildlife sanctuary in 2009. A game drive lasts approximately 2 hours. Visitors are guaranteed fantastic sightings of a diverse population of antelope, for example Gemsbok, Giraffe, Burchell's Zebra, Eland, Springbok, Bontebok, Black Wildebeest, Kudu as well as other small mammals and a huge diversity of birdlife attracted by the 12 dams and marsh areas.
Cost is R250 per adult
Dating back to 1692, Babylonstoren is a historic Cape Dutch farm that boasts one of the best preserved farmyards in the Cape. Beloved for its magnificent garden that is laid out over 3,5 hectares, the garden is divided into 15 sections that comprise fruit, vegetables, berries, bees for pollinating, indigenous plants, fragrant lawns, a prickly pear maze, ducks and chickens, and more. A secluded path runs along the stream where thousands of clivias flower in spring. The garden also boasts a plethora of trees of historical and botanical import.
Starts at 10h00 in front of the Farm Shop
An experienced gardener will be your guide on this tour, during which guests are encouraged to pick, taste, smell and touch while walking through the garden.
Daily guided walk from Monday to Friday at 11h30, to discover the special collections. Depending on the time of year, guests will be taken to see the succulent collection, the cycads next to the stream or for a walk through the Healing Garden.
Monday – Sunday, 9am – 5pm (last entry is 4pm)
*Arrival by 9am recommended for those who have not booked a tour.
Stellenbosch is a perfect place to explore with a bicycle or an e-bike. The Bike rental, helmet, lock and puncture repair kit is included in the rate. The mountain bikes can be used for town cruising and going onto the Stellenbosch Trail fund trails through the town and into the many fantastic routes in Stellenbosch Mountain or the Jonkershoek Nature reserve.
Costs: R 300 per day bike rental or R500 per day for E-Bike Rental.
Choose between a normal bike or an E-Bike and join a tour that combines the beautiful scenery and sites of Historic Stellenbosch with some excellent wine pairings (when available) and some healthy outdoor exercise. You will also cycle through the Stellenbosch University campus.
Duration of Tour: 4-5 hours
Our favourite hike in Stellenbosch is the Waterfall Hike in Jonkershoek nature Reserve but the Adventure shop offers all the most popular guided hikes in the Stellenbosch region. Hikes on Table Mountain and Kirstenbosch Garden can also be accommodated.
Explore the "village of the oaks" with its shady oak avenues bordered by the water furrows of the Mill Stream. Admire the charm and harmony of the Cape Dutch Architecture and listen to tales about the colourful inhabitants of three centuries.
Discover where Simon van der Stel set up camp in the Eerste River and why it is called the Eerste River. Perhaps you will meet an angel at the "Angel Factory" or a ghost in the graveyard of the "Moederkerk".
The Franschhoek Motor Museum is a must-see South African venue. Showcasing over 100 years of automotive history it caters to tourists, local families, and motor enthusiasts alike. The museum's collection exceeds 220 vehicles – ranging from an 1898 Beeston motor tricycle to a 2003 Ferrari Enzo supercar – and more than 80 exhibits will be on view at any one time, displayed in four de-humidified halls with a total floor area of 2700 mÇ, and presented in chronological order.
Open daily, by appointment only.
FRANSCHHOEK PASS
View the valley from up high on one of the oldest passes in South Africa – and certainly one of the most hair-raising! A drive along the Franschhoek Pass is not merely a scenic gateway to neighbouring locations, it's a great activity in itself for beautiful views (and a side of adrenaline). Pack a picnic, charge your camera or smartphone, and hop in the car (or on a bike) for a magnificent cruise along the lengthy road, taking in dramatic scenery and ever-changing landscapes as you go. The first fully engineered road in the country has still got it, and is sure to take your breath away.