What kind of Boscher are you?
Posted on Mon June 27, 2022.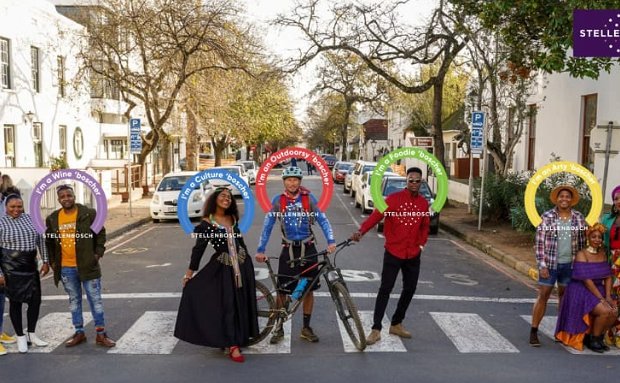 What is a Boscher?
Noun: A Stellenbosch connoisseur/addict/fan/buff
Stellenbosch has a little something for everyone. That's what makes this such a beautiful town to live in or visit as often as possible. From food and wine to art and culture or the picturesque outdoors, there's something for everyone in warmhearted Stellenbosch.

Step back in time in Stellenbosch, a thriving living history and culture museum. Walk the oak lined streets of the 'Bosch and you'll discover history, heritage and a fascinating diversity of culture around every corner in South Africa's oldest town.
Here's your Culture 'boscher itinerary inspiration

Get your art fix in Stellenbosch – in the gardens, galleries or on the streets. Gallery hopping in the 'Bosch doesn't just mean spending your days indoors. Art in Stellenbosch is found everywhere – from tranquil gardens to stunning and thought-provoking pieces dotted on the historic streets.
Here's your Art 'boscher itinerary inspiration

Wine down in Stellenbosch, South Africa's oldest and award-winning wine route. With more than 200 wine farms falling under Stellenbosch Wine Routes, you'd have to visit every day for almost a year to even make a dent in tasting all of the 'Bosch!
Here's your Wine 'boscher itinerary inspiration
Soak up our breath-taking surrounds, rivalling even our finest grape.
If you're craving fresh air and ample space to roam free, then Stellenbosch is your easy breezy, outdoors playground waiting to welcome you. Mountain bikers, hikers and 'lazy' walkers, there's an outdoors activity to appeal to every nature lover in the 'Bosch.
Here's your Outdoorsy 'boscher itinerary inspiration

Feast on the best – from picnics and top-notch eateries to trendy market fare.
You certainly won't go hungry in Stellenbosch. No matter what you're craving – be it five-star cuisine, traditional South African favourites or a relaxing bite to eat soaking up the atmosphere of a trendy local market, the 'Bosch is a foodie favourite.