Blog - Page 2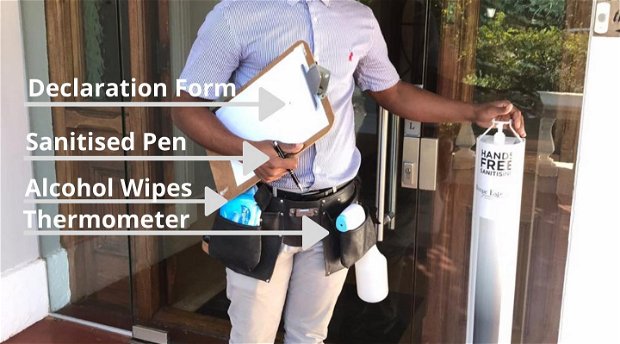 BONNE ESPERANCE STELLENBOSCH READY PROTOCOL:
While no one can predict the path of this virus, Bonne Esperance Guest House would like to ensure you that we will continuously monitor developments and do our utmost to reduce the risk of potential contamination or spread of disease.
The safety and well-being of our guests and staff members are always our main priority and we are taking all possible steps to help keep our communities safe.
Here are some of the steps that Bonne Esperance have put in place for the safety and reassurance of staff and guests.
The COVID-19 protocol includes but is not limited to:
1. ARRIVAL:
Screening of guests on arrival has become necessary in accordance with the national state of disaster.
Upon arrival of guests at Bonne Esperance, guests will be required to:
 allow their temperature to be scanned with a thermal scanner
 complete and sign a questionnaire
 For multiple-day stays, daily temperature will be recorded (when arriving for breakfast or departing the Guest House each day).
If a guest's temperature falls within the normal range and they do not show any symptoms they will be required to sanitise their hands and proceed to check-in.
If a guest's temperature is high (actual temperature at screening should not exceed 37.5 degrees Celsius) and/or they have symptoms of the virus they will not be allowed to check-in and will be referred to a medical facility.
2. CHECK IN OF GUESTS:
 Guests will be requested to check in online prior to arrival to minimise direct contact, a screening questionnaire will be part of the online check in procedure.
 Guests are required to wear masks when in public areas, if guests do not have masks we will supply masks at check in.
 All luggage should either be sprayed with a disinfection spay or wiped with surface sanitiser. Staff handling luggage should sanitise or wash hands before and after touching luggage.
 All items on the front desk (pen, registration form and room keys) and the receptionists hands are sanitised, in front of the arriving guest, prior to any guest interaction. Guests are required to sanitise hands and credit cards, prior to interaction. The credit card machine is sanitised before and after every use. No cash will be accepted during this time. Credit card and cleared EFT payments only.
2. GUEST HAND SANITISERS
Alcohol based hand sanitisers are placed in easy reach of guests in public areas of the guest house.
3. REGULAR ROUTINE CLEANING
Public areas such as restrooms, breakfast rooms, restaurants are wiped down on a regular basis throughout the day with a disinfectant cleaner.
4. BREAKFAST
Due to the restrictions our usual buffet style breakfast cannot be served. Guests can choose between room service for breakfast or ordering from the a la carte menu in the breakfast room while adhering to social distancing protocol. The a la carte menu is available on our website or a once off use printed paper.
5. LAUNDRY:
Linen and towels are washed on the hottest wash cycle at 80°C. All linen will be ironed on a hot setting. Towels are tumble-dried until fully dry and hot enough to kill any potential viral matter.
6. ROOMS/CLEANING PRACTICES:
We have taken additional measures to align with recommendations from global and local public health authorities.
Our staff have received training on sanitising rooms. This also included how to handle linen and the sanitising of bathrooms. Staff wear the following PPE while cleaning rooms and bathrooms: face masks, disposable gloves and aprons.
On check-out all furniture and all surfaces including wall surfaces will be thoroughly cleaned with an effective disinfectant.
Room cleaning frequency may be reduced and linen change frequencies reduced to lower contamination risks.
The NICD Hotline is available to all staff and guests. In the event that anyone feels ill after travelling from countries with coronavirus, the South African Department of Health advises first phoning the National Institute of Communicable Diseases (NICD) helpline rather than going straight to a medical facility, to prevent potential contamination.
The NICD hotline number is 080 002 9999.
Bonne Esperance would like to ensure our guests that we will adhere to Stellenbosch Ready protocols to maintain the highest standard of cleanliness to ensure the safety of our guests.
Read More